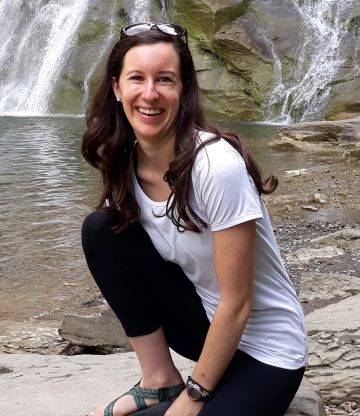 Kelly joined the Goldwyn & Boyland team in 2015 as a physical therapist/ strength and conditioning coach. She completed her undergraduate work at SUNY Geneseo with a B.S. in biology and was a member of their Track and Cross Country teams. Kelly then graduated from SUNY Upstate Medical University with her Doctorate of Physical Therapy degree and immediately came to Cortland after having a great clinical experience at Goldwyn & Boyland during medical school. She is a certified strength and conditioning coach (CSCS) and is also a board certified orthopaedic clinical specialist (OCS). She is currently working on becoming a certified BirthFit! Coach.
The combination of physical therapy and fitness coaching with Move Better Fitness represents only part of Kelly's passion for wellness. In 2018 she created the G&B Wellness program with a vision of guiding individuals to their highest potential for improved quality of life for the whole person; mind, body, and spirit. This mindset of the "whole person" is a primary focus when working with her physical therapy clients. One of Kelly's passions is building a connection with people and encouraging them on their journey of wellness. Kelly has a heart to encourage and uses her gifts to walk with patients through the transitions of rehab towards meeting an individual's goals. Whether a runner wanting to get back to the trails or someone's goal of getting up from the floor, Kelly loves to see patients do what they previously thought impossible. Kelly also uses these skills for helping clinical students on their own journey and appreciates the opportunities to help others grow.
Kelly enjoys many activities on her own wellness journey. Her favorite things involve spending time with her community of family, friends and faith. Kelly is an aspiring 46er of the Adirondack Mountains and she loves to be out in nature. Besides running, skiing and a new addition of cycling, she enjoys moving in different ways and is open to new adventures. Kelly loves music and when practicing in the Cortland office, she enjoys the privilege of being the clinic's DJ of music and has been frequently called the "singing PT".